CSIRO Computing History, Appendix 3: Staff
These pages attempt to give some of the history of CSIRO's use of computing in its research, focussing mainly on the large shared systems and services.
Last updated: 8 Oct 2021.
Robert C. Bell
The administrative staff of DIT Melbourne on 30 May 1991 at 55 Barry St – Sue Wilson, Marita O'Dowd and Teresa Curcio. Though not part of the Supercomputing Support Group, they assisted ably in setting it up and supporting the administrative and finance operations. My favourite saying from Sue Wilson on behalf of the team was something like "we can fix that – just leave it to us!"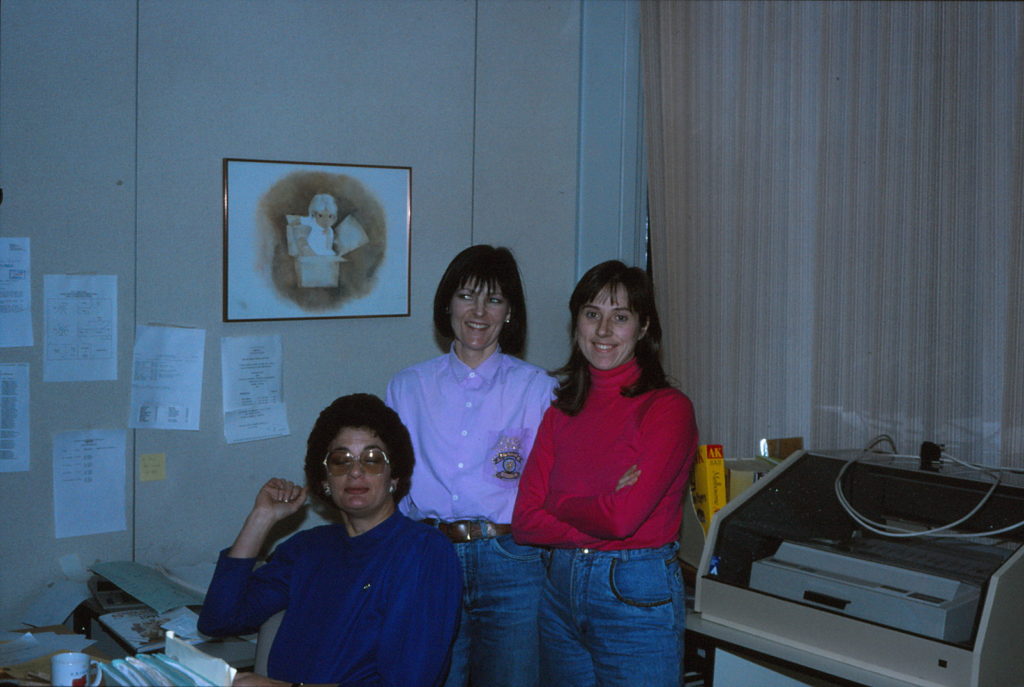 HPCCC staff in the Bureau's Central Computing Facility at 150 Lonsdale Street, c. 2000.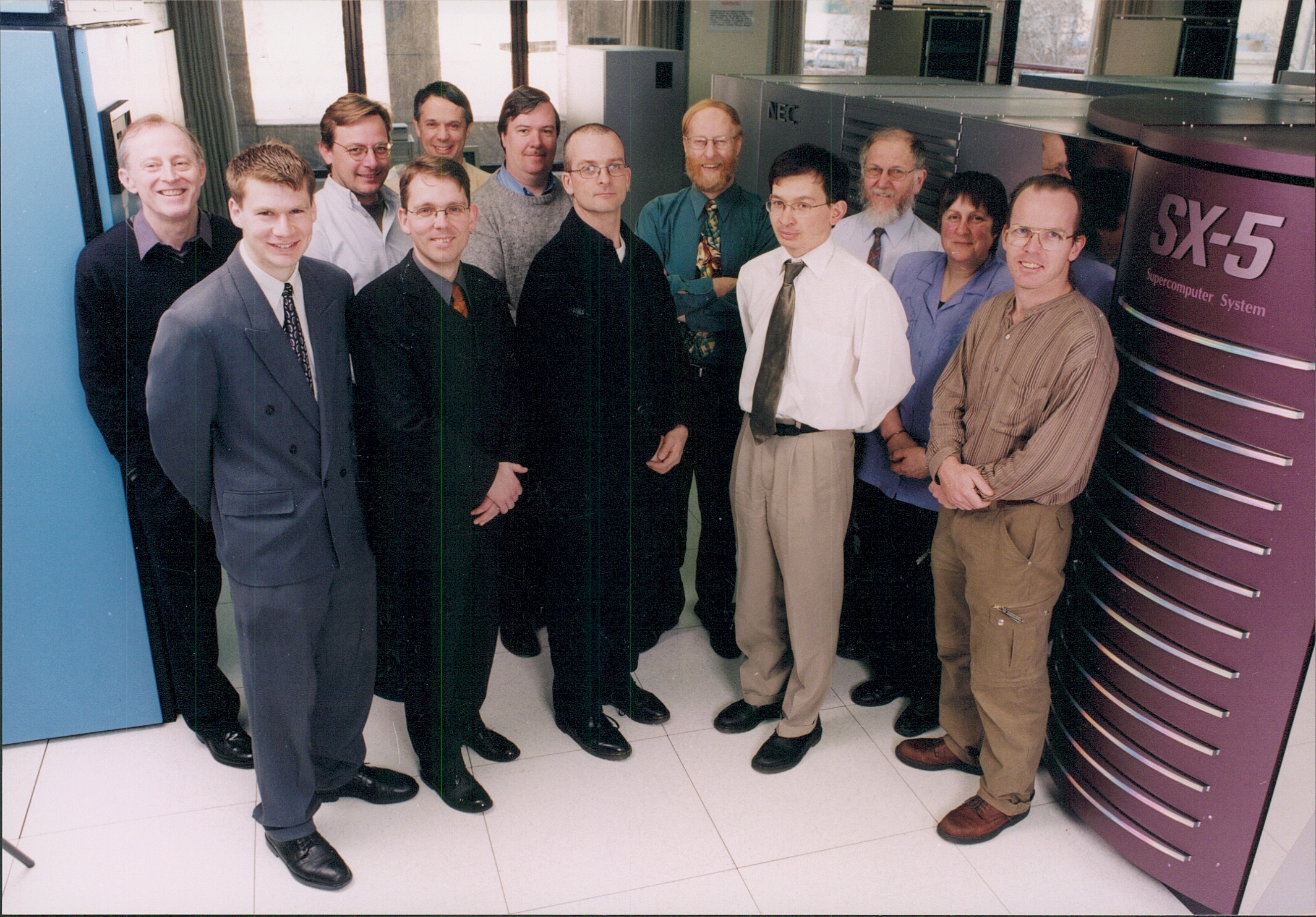 Back Row: Bob Smart (CSIRO), Jeroen van den Muyzenberg (CSIRO), Rodney Davidson (Bureau), Mick Crofts (Bureau), Rob Bell (CSIRO), Len Makin (CSIRO), Ann Eblen (Bureau).
Front row: Stephen Leak (CSIRO), Joerg Henrichs (NEC), John Stern (Bureau), Richard Oxbrow (Bureau), Gareth Williams (CSIRO).
CSIRO HPSC staff photo from about 2005 in the Central Computing Facility (CCF) of the Bureau of Meteorology at 700 Collins St.
Behind the staff on the left is part of the StorageTek Powderhorn automated tape library, and possibly on the right the IBM burnet cluster.
Staff of the HPSC team are, from left to right:
Rowan McKenzie, Gareth Williams, Robert Bell, King Lung Chiu, Rhys Francis, Bob Smart, Polly Morgan, Jeroen van den Muyzenberg, Erika Stojanovic and Len Makin.
The C.S.I.R.O. Computing Research Section was founded on 1 January 1963. Dr Godfrey N. Lance was appointed officer-in-charge of the section on 1 February 1963. Chapter 2 shows some of the key appointments.
In July 1963, Pearcey, Hill, Terry Holden and John Penny were transferred to the Computing Research Section (Csironet News, no. 172, August 1983, p19)
On 28 August 1967 the Section was given Divisional status with Dr G. N. Lance appointed Chief of Division.
Here is a chart showing staff numbers in DCR, gleaned from annual reports. (The last column does not break down the staff by locations, except for the Adelaide branch which included the VLSI team.)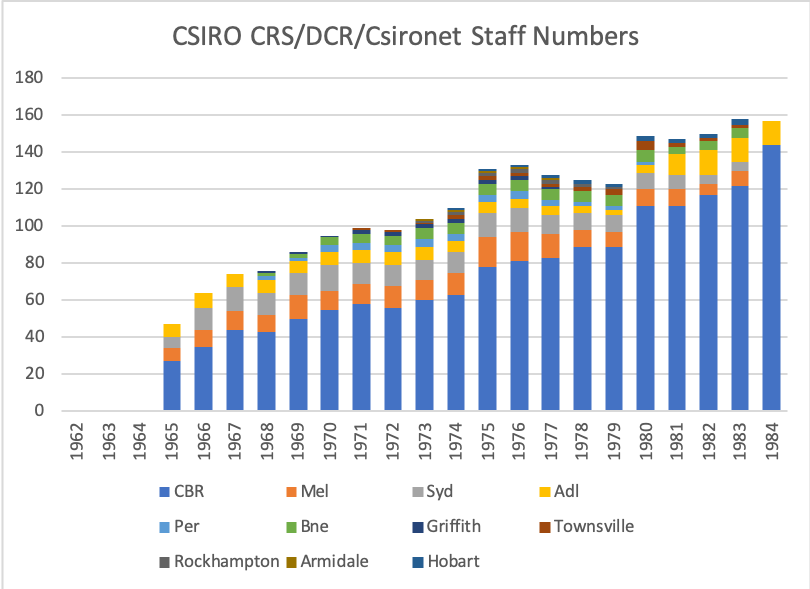 Here is a partial list of staff of the Supercomputing Support Group and associated CSIRO HPSC, ASC and IMT SC services from 1990.
Robert Bell (1974-1990 at Division of Atmospheric Research and predecessors) 1990-05- to 2019-03-08, then Retirement Fellow 2019-03-11 –

Marek Michalewicz ~1990 to ~1999

Simon McClenahan ~1990 to 1993

Len Makin 1991 to 2006 Jan 03 retired.

Virginia Norling ~1994 to ~1996, ~1997 to 1999

Eva Hatzi ~1999 to ~2000

Jeroen van den Muyzenberg 1999? to 2007 Aug 17

Bob Smart 2000- to 2008 Feb 14 retired.

Gareth Williams 2001-

Rowan McKenzie 2002-

c. 2020-11.

Rhys Francis 2003- 2007 June

Erika Stojanovic 2003 to 2006 Jan 13

King Lung Chiu 2004- to 2007 Mar 02

Polly Morgan 2004-05 to 2010-09-10

Alf Uhlherr 2005-01-31 – 2006-07-?, 2007-10-01 to 2016-09

Neil Killeen 2005-02-28 to 2005-07

John Giovannis 2006-02-07 to 2015

Daniel Smith 2006-02-20 to 2013-12-13.

Teresa Curcio 2006-05-08 to 2016-04-28.

Aaron McDonough 2006-05-22 to 2014-07-24.

Justin Baker 2007-02-19

Joel Ludbey 2008-06-02

Peter Edwards 2008-06-10

Tim Ho 2008-06-23

Steve Fraser 2008-07-21

Sam Moskwa 2008-09-29

Stephen Leak 2009-05-20 to 2013-10-04

Igor Zupanovic 2010-03-29

Peter H. Campbell 2010-09-06

Ondrej Hlinka 2010-09-06

Luke Domanski 201? to 2015-01-23

James Powell

Darren Thompson

Romy Soriano 2010-01-18

Josh Bowden

2010-10-18 to 2020-02-28

Colin Paisley 2010-10-28 to 2014-10-?

Maciej Golebiewski 2010-11-15

Stephen McMahon 2011

Brian Davis 2011 to 2014

James Barker 2011-06-20 to 2014-07-04

Jonathan Khoo 2012-05-14 to ~2014-05

Daniel Collins 2012-07-16

Paul Ryan 2012-09-10 – 2014-10-13, 2014-10-20

Scott Atkinson 2012-10-08

Ahmed Taleb 2012-10-08

David Benn 2012-10-15

Charles Schwartz 2012-10 to 2013-08-02?

Monish Parajuli 2012-11-26 Vac student

Ben Meyer 2012-11-26 Vac student

Alyssa Biasi 2012-11-26 to 2014-02-28.

Mark Sedrak 2012-11-26 Vac student

Krystina Johnson

2013 early to 2019?

2018-10-05 – Viz, Clayton.

Phil Ward 2013-03-? to 2014-02-04?

Chris Russell 2013-03-?

Fanel Donea 2013-10-24

Alex Kruger 2014-11-24 to 2015-02-27

Chris Le 2014-12-08

Andrew Laurence 2015-02-02

Rupert Jonas 2016-01-18
Nathan Stride 2016-04-11

Harvey Davies

Terence Fernandez

Robert Davy 2015-06-09/12 From CSIRO O&A. Based at Yarralumla
Paulus Lahur 2015-06-29 Clayton, Sam's team
Chris Watkins 2015-06-29 to 2020-04-03

Clayton, Sam's team

Xavier Ho 2015-06-30 to 2019-01-28

Clayton, Viz team

Florence Wang 2015-07-06 to 2020-03-03

Viz team Clayton

Alex Kruger 2016-02-01 Clayton, User services
Mike Caccetta 2016-07-01 Perth, Kensington, Data Processing
Tim Erwin 2016-07-05 Clayton, Sam Moskwa's group. Ex- O&A, Aspendale
Julia Anticev 2016-07-05 Clayton, Sam Moskwa's group. Ex- L&W
Brint Gardner < 2015 Clayton
Alex Kruger 2016-11-14 Clayton, vac. student
Eleanor McMurtry 2016-11-14 Clayton, vac. student
Dylan Graham 2017-01-30 Clayton, Sam's group
Ringku Mathew ~2017-07-31 SC Services – business analyst
Adrian D'Alessandro 2018-06-20 to 2020-02-07 Scientific Computing Applications – Clayton
Lauren Stevens 2018-09-24 Scientific Computing – Clayton – ex-Aspendale.
Kiowa Scott-Hurley <2018-12-12 to 2020-02-28

Cadetship.

Liz Cooper-Williams 2019-04-18 Services Group, Brisbane.
Louise Ord 2019-04-29 SCS Visualisation Team – based at Eveleigh
Derek Benson 2019-05-06 Technical Solutions Team, Pullenvale
Brendan Carter 2019-05-06 Technical Solutions Team, Pullenvale

Ujjwal Ghatak 2019-11-25 Technical Solutions Team, Clayton

Harvey

2019-11-25?

Vac student, Clayton
Sue

2019-11-25?

Vac student, Clayton
James

2019-11-25?

Vac student, Clayton
Andrew Spiers

?

Clayton
See also the Gflop brochure which contains a picture of Rob. Bell, Len Makin, Eva Hatzi and Marek Michalewicz.
Here is a list of managers of CSIRO's scientific computing services post-CSIRONET.
1990-c.2003 John O'Callaghan
2003 July – c. 2007 Rhys Francis
2006- c. 2007 Rob Woodcock
c. 2007-Sep 2016 Alf Uhlherr
2016- John Zic