Hugh McLeod Gordon AM (1909 – 2002)
Hugh McLeod Gordon was born on 28 March 1909 in Armidale, New South Wales. He died on 23 April 2002, at Manly, New South Wales. His father, Hugh Hungerford (Bob) Gordon was a grazier in the Armidale district of New South Wales who purchased the property Elsinore in 1911. Hugh's mother was Frederica Marion Taylor (1885-1962) of Terrible Vale, a property near Uralla, a small town on the Northern Tablelands of New South Wales.
Hugh Gordon spent his early years at Elsinore, attending Armidale High School from 1922 to 1926. In 1927 he entered the Faculty of Veterinary Science at the University of Sydney, residing at St. Paul's College. He applied for entry after reading a letter from Professor James Douglas Stewart (Dean of the Veterinary Science faculty), that appeared in the Sydney Morning Herald on 26 January 1927, asking country students to consider veterinary science as a career.
At Sydney University
He obtained his Bachelor of Veterinary Science (BVSc) with honours, from the University of Sydney, in 1930 and won a University Blue in hockey in 1928 and 1929. In 1968 he was awarded the degree of Doctor of Veterinary Science (DVSc) also from the University of Sydney, for his thesis Studies on Helminthosis in Sheep.
From 1937-1970 while employed at CSIR/CSIRO he was a part-time lecturer in Veterinary Parasitology at the University of Sydney teaching more than 1000 future veterinarians. Following his retirement from the CSIRO in 1974, he resumed teaching at the University of Sydney as a part-time demonstrator in Veterinary Parasitology and continued in this role until 1996.
At CSIR/CSIRO (1931-74)
In 1931, he was awarded a Walter and Eliza Hall Fellowship to continue with post-graduate studies in parasitology working (from 1931-33) with the late Sir Ian Clunies Ross at the McMaster Laboratory. This was the beginning of a long and distinguished career in veterinary parasitology research and teaching. His early research was incorporated in the groundbreaking publication (Clunies-Ross and Gordon) The Internal Parasites and Parasitic Diseases of Sheep (published in 1936) and came at a time when Australian wool growers were suffering enormous losses due to failure to identify parasites causing losses, lack of treatment, and limited knowledge of the factors leading to pasture infection.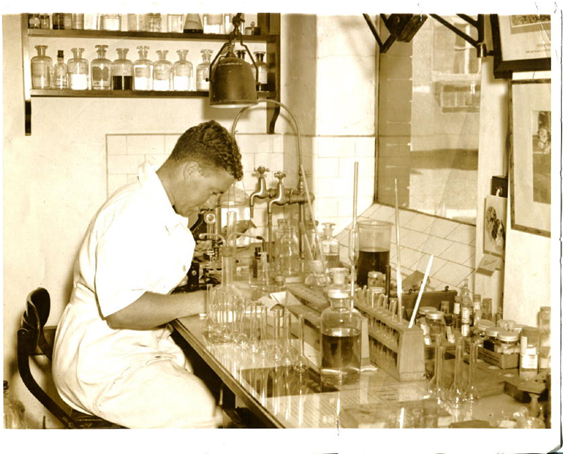 He was appointed to the staff of the McMaster Laboratory in 1934, and remained there until his retirement in 1974. Gordon's time at the McMaster laboratory was marked by a prolific output of substantial papers, encompassing laboratory research and results from numerous field studies. His major contribution was in laying the foundations of modern epidemiological thinking in the control of internal parasites of grazing ruminants, and sheep in particular. His understanding of the epidemiology of internal parasitism and parasitic diseases of sheep allowed him to develop control strategies that minimised reliance on drenching.
The internationally recognised Wormkill program, which was most effective at controlling worms in the New England region of New South Wales in the 1980s, was based on principles developed by Hugh Gordon in the 1940s.
In addition to his epidemiological research, Gordon also researched and published extensively on the use of various anthelmintics in sheep. He was responsible for the development in the late 1930's of phenothiazine, a heterocyclic compound, as 'a safe and effective anthelmintic' for sheep. This replaced the much less effective bluestone, nicotine and arsenic drenches that were being used in the sheep industry at that time. He further suggested that the compound could be made locally in Australia. For some decades his work and locally developed industrial syntheses saved the Australian farmer millions of dollars as phenothiazine remained the basis of worm control in the Australian sheep industry until the 1960's when the broader-spectrum anthelmintics became available.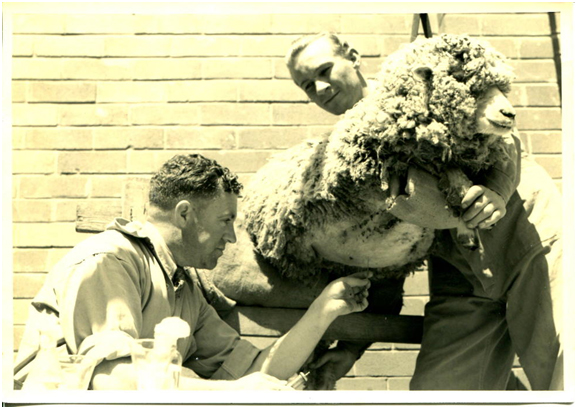 He also played a major role in the introduction of thiabendazole (the first member of the benzimidazole family) as an anthelmintic for sheep in the early 1960s. In September 1961, in the prestigious international journal Nature, he reported on his laboratory and field trials that demonstrated this compound exhibited a very high degree of anthelmintic activity against most of the major internal parasites of sheep. Newer generation benzimidazole compounds such as albendazole and fenbendazole came to replace thiabendazole and were used widely in people and domestic animals.
In recognition of his services to veterinary science, he was awarded the Gilruth Prize by the Australian Veterinary Association in 1965 and a Doctor of Veterinary Science by Sydney University in 1968. In his address following the awarding the Gilruth Prize in 1965, Hugh said: Veterinary science became my way of life. I grew up within the sights, sounds and scents of sheep and had it not been for drought and depression, sheep would probably become my way of life. As it turned out it was the parasites of sheep that claimed me.
He was a popular speaker at field days and schools throughout Australia, not only because of his knowledge and ability to talk to sheep producers in their own language, but for his jokes and good humour. He believed that 'the propagation and promulgation of technical information should not have to await the stimulus of urgency or near disaster, but must go on as a gospel preached in good times to provide for the future.
In addition to co-authoring the definitive text The Internal Parasites and Parasitic Diseases of Sheep with Dr Ian Clunies Ross in 1936 Hugh Gordon published in excess of 100 papers in various scientific journals, mostly the Australian Veterinary Journal.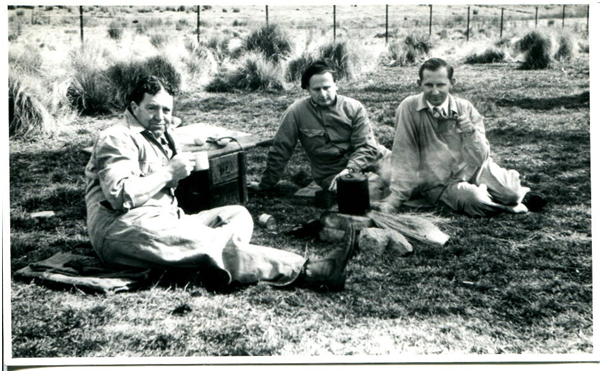 Professional bodies
Hugh was very active in the affairs of the Australian Veterinary Asspciation (AVA) at a state and national level. He was secretary of the NSW Division from 1933 to 1944 and President of the Division in 1941 and 1944. He was elected to the Council of the AVA in 1939 and served in this role for many years. He was National President of the AVA in 1951-52. He was a Foundation Fellow of the Australian College of Veterinary Scientists and was President in 1976-77. He was also a foundation member of the Australian Society for Parasitology and served as President in 1964. In 1986, he became a Member of the Order of Australia for services to veterinary science.
He was elected a Fellow of the Australian Veterinary Association in 1959 for his outstanding service to the Association. His Fellowship citation in 1959 stated that 'through his work and writings, through the many students who have sat at his feet and by his willingness at all times to extend help and friendship to his colleagues, Mr. Gordon has attained a world-wide reputation both as a parasitologist and for his personal qualities.'
Hugh Gordon thought a lot about the future. In 1952, he asked whether the veterinary schools were producing the kind of veterinarian the country needed and whether the Universities were attracting the right types of young men and women into their faculties of Veterinary Science. He asked why the 'field veterinarian' seems so often to be isolated, neglected and discouraged. The debate over the scarcity of rural veterinarians is continuing 50 years later.
Hugh's contribution to society may perhaps best be summarised by using his own words from his AVA Presidential address in 1952 entitled Let us look ahead. In this address, he referred to one's obligations to one's profession, to science and to the community. In his conclusion, he said:
Our professional activities call for wholehearted support and participation in the affairs of the Australian Veterinary association. Our responsibilities as scientists call for the full utilization of the special capacities given to us by our professional training. Our obligations as citizens call for an honest answer to the question- have I this day used this ability in the best interest of my country?
Retirement
Such was his dedication to veterinary science and parasitology, he continued to devote his time to these pursuits following his official retirement from the CSIRO in 1974. He continued to make his daily trek from Manly, taking the Manly Ferry then the 440 bus to the McMaster Laboratory at the Camperdown campus of the University of Sydney.
He divided his time between the Veterinary Science faculty, where he was a demonstrator in parasitology practical classes, and the Max Henry Memorial Library, where he was Honorary Librarian. The status of the Max Henry Memorial Library, located at the McMaster Library, was a tribute to Hugh Gordon's efforts over many years. He continued to devour scientific journal articles on parasitology, keeping abreast of new developments and discoveries. In 1995 the Max Henry Memorial Library was disbanded much to Hugh's dismay. This marked the end of his time at the University of Sydney, 21 years after his official retirement and 64 years after he started at the McMaster Laboratory.
Hugh McLeod Gordon died, aged 93, in Manly Hospital after a short illness on 23 April 2002. As former student and CSIRO colleague Alan Donald wrote in his obituary for Hugh Gordon in 2002 (see Source below):
'For those who knew and worked with Hugh Gordon, he was a delightful teacher, mentor, colleague and friend. He had a truly enquiring mind, a constant capacity for lateral thinking, and an encyclopedic knowledge of many things but of matters parasitological above all. For many years, he surveyed the current parasitological literature for the McMaster Library indexing system and would often draw interesting papers to the attention of his colleagues. He was always approachable by the most junior of his colleagues or students and was never too busy to answer their requests for help or advice.
Many will remember tapping on the half-open door of his room at the McMaster to be invited immediately to come in, and to find Hugh at his desk literally surrounded by enormous piles of journals, books and papers ' but instantly able to put his hand on the item that would help you with your problem. Many will also remember his enormous storehouse of jokes, appropriate to any occasion but not all of them suitable for all audiences. Right up to the last years of his life, Hugh Gordon continued to keep in touch with his colleagues and with progress in veterinary parasitology and to write entertaining anecdotes from his experiences that were published in Skirting the Issues, the Newsletter of the Australian Sheep Veterinary Society.'.
In his 2002 tribute to Hugh Gordon (see Sources below), John Plant wrote:
'Throughout his life, Hugh Gordon went beyond the call of duty in meeting the standards that he set for one's obligations as a citizen. He will be missed, but always remembered. The Australian Sheep Veterinary Society has a scholarship in Hugh's name for recent graduates of Australian Universities. This was first awarded in 1997 and will remain as a tribute to his contribution to veterinary science and the sheep industry.'
Honours and awards
Throughout his career, Hugh Gordon was active in and honoured by many professional associations, both in Australia and overseas. He was:
a Foundation Member and President (1968-1969) of the Australian Society for Parasitology
a Foundation Member, former member of the Executive Board and First Vice-President of the World Association for the Advancement of Veterinary Parasitology;
a member and in 1949 President Section L (Veterinary Science) of the Australian and New Zealand Association for the Advancement of Science (ANZAAS)
Foundation Fellow and President 1976-1977, Australian College of Veterinary Scientists
The Australian Sheep Veterinary Society established the 'Hugh Gordon Australian Sheep Veterinary Society Scholarship' in his honour, first awarded 1998.
Fellowships
| | |
| --- | --- |
| 1981 | Elected Honorary Member, Helminthological Society of Washington; |
| 1981 | Elected Honorary Member, World Association for the Advancement of Veterinary Parasitology |
| 1972 | Fellow, Australian Society for Parasitology |
| 1972 | Foundation Fellow, Australian College of Veterinary Scientists |
| 1959 | Fellow, Australian Veterinary Association |
Awards
| | |
| --- | --- |
| 1992 | University of Sydney inaugural Alumni Award for Achievement in Community Service. This award was created to honour graduates for excellence in their chosen field and outstanding community contributions. |
| 1986 | Member of the Order of Australia (AM) ' for services to Veterinary Science |
| 1970 | Order of the Golden Fleece by the California Wool Growers Association |
| 1965 | Gilruth Prize, Australian Veterinary Association |
| 1958 | Payne Exhibition, awarded for the most important contribution to Veterinary Science during the preceding five years |
Sources
Donald AD, 2013, personal communication.
Donald AD, 2002, 'Obituary; Hugh McLeod Gordon'. Aust Vet J, 80:573.
Donald AD, 1989 'Hugh McLeod Gordon an appreciation on his 80th birthday'. Int J Parasitology, 19: 579-580.
Plant JA, 2002, 'A Tribute to Hugh Gordon'. Aust Vet J, 80:328.