CSIRO Computing History, Chapter 7
These pages attempt to give some of the history of CSIRO's use of computing in its research, focussing mainly on the large shared systems and services.
Chapter 7. The HPCCC – Bureau of Meteorology
This page/post is under construction.
Last updated: 28 Oct 2019.
Robert C. Bell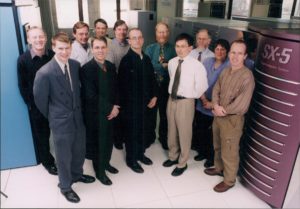 In late 1995, Ed Hayes from Ohio State Supercomputer Center visited Australia and talked about supercomputers.  A dinner was arranged with him, attended by senior CSIRO and Bureau of Meteorology staff with interests in supercomputing.
In early 1996, Malcolm McIntosh, the incoming CSIRO CEO, was reported to have said to a CSIRO Chief: "What are we doing about supercomputing:  I'm prepared to sign off on a joint facility with the Bureau of Meteorology."
With that mandate, CSIRO and Bureau staff went to work, and prepared a tender for a new joint supercomputer.  The decision was made in April 1997 to award a contract to NEC for an SX-4 system, and the contract and agreement for the setting up of the High Performance Computing and Communications Centre.  The SX-4 arrived in about October 1997, and CSIRO acquired a Cray J90 to manage its storage under DMF, and to act as a front-end.  The four CSIRO staff of the Supercomputing Support Group moved to the 24th Floor at the Bureau's headquarters in September 1997.
In 1999, an SX-5 was acquired, and in 2001, a second SX-5 to replace the SX-4.
In 2002-3, the HPCCC tendered again, and contracted with NEC to acquire an SX-6/TX7 system to be situated in Docklands at the Bureau's new headquarters at 700 Collins Street.  The initial system was delivered in December 2003 into an unfinished building, and staff moved to Docklands in August 2004.