SIROFLO® – a novel grain fumigation technique
SIROFLO® has made a major contribution to the safe storage of Australia's grain crop. It has rapidly become the major grain 'protection' and disinfestation method used in both vertical silos and in the vast array of horizontal storages that exist in Australia. SIROFLO® was developed by Dr Bob Winks at the Stored Grain Research Laboratory of the CSIRO Division of Entomology. It followed many years of his research into the principles of toxicity of the fumigant phosphine for grain insects and his efforts to develop a method of fumigation that would optimise these parameters in storages that were not suitable for conventional methods of fumigation. Most of Australia's grain storages fall into this category.
SIROFLO® has made an outstanding contribution in the post-harvest area of grain production in Australia. It has already saved the industry many millions of dollars while maintaining Australia's high reputation as a supplier of insect-free grain in increasingly competitive world markets. In addition the SIROFLO® family of technologies has been exported to Bahrain, Britain, Cyprus, New Zealand and the Pacific Islands as well as countries in Asia and the Americas.
The research begins in the early 1980s
The SIROFLO story started in the early 1980s when Bob Winks was working on the toxicity of phosphine, used for fumigating stored grain to kill insects. Phosphine has a number of advantages for disinfesting grain. It kills all insects, even strains resistant to other insecticides and it meets market requirements as a residue-free treatment. Australia's markets started demanding low residue or residue-free grain in the mid-1980s and phosphine was chosen as the replacement for other grain-protectant insecticides. Those insecticides had served Australia well for 20 years but were rapidly losing acceptance in Australia's international and domestic markets.
The challenge
In the 1980s everyone believed that phosphine had to be applied in high concentrations, and that was a problem given phosphine is also toxic to humans. In high concentrations it has to be handled with care and can pose a serious threat of its own in workplaces around silos and in the surrounding environment. In addition, grain silos are rarely gas-tight or anything like it. Air passes freely through the grain in most storages, aided by windy weather outside and by the 'chimney' effect within, caused by the difference between the temperature of the grain and that of the atmosphere outside. The effect is to draw air into the silo, where it rapidly dilutes the fumigating gas inside.
Phosphine was at that time delivered mainly in the form of tablets, pellets or sachets containing aluminium phosphide, that were mixed with the grain or placed inside the grain store. The chemicals reacted with the moisture in the air and released phosphine gradually over a period of days. Levels of phosphine delivered in this way drop to zero in about five days in unsealed grain stores. That leads to a further raft of problems, the trickiest being that the treatment causes an illusion of success. The gas will kill all the very visible larvae and adults of the insect pest, but is far less effective against inconspicuous insect eggs and pupae. Many of these will ride out a five-day fumigation period and hatch when the coast is clear. The result is a rapid re-infestation by pests which may well have acquired resistance to follow-up treatments.
Bob Winks showed that the fumigation time is far more critical than the concentration of the gas and that to control the major species infesting grain it is essential to prolong exposure well beyond five days. If you can do that, high concentrations of phosphine are not needed; in fact the gas is more effective at much lower concentrations.
In 1970 Western Australia's grain handling authorities had taken a farsighted decision to seal their grain storage facilities to a 'gas-tightness' standard, which enabled longer exposure periods with phosphine, but in the other major grain-growing states of Australia and elsewhere in the world, most grain stores remained unsealed. Use of phosphine in these stores was expensive, inefficient and potentially hazardous. As Bob Winks recalled:
The question was how to apply the benefits of low concentrations and longer exposure periods in the storages
The solution ' SIROFLO®
The solution was the method now known as SIROFLO®. The research findings that led to the development of this process included the following:
the development of comprehensive models describing the interaction of concentration and time in both phosphine-susceptible and phosphine-resistant insects
the description of the nature and significance of phosphine narcosis
the development of a detailed understanding of the characteristics of response time or speed of action
the development of a detailed understanding of the characteristics of phosphine resistance.
SIROFLO® is a pressurised distribution system that involves bleeding phosphine slowly from a cylinder into a calculated airflow fed into the base of the silo. That produces a steady, low concentration gas release and a small positive pressure in the base of the silo. This overcomes the inherent defects of old leaky silos and distributes the gas throughout the grain. Gas release can be continued for long enough to kill even the most resistant insects. The approach also overcomes the problem of egg and pupal survival ' the gas is still around when the insects hatch; and the low phosphine concentration removes or eliminates danger to people and to the surrounding environment.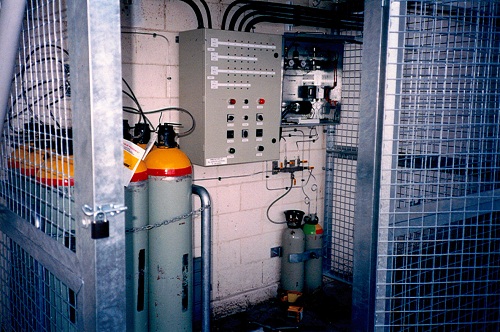 SIROFLO® is quite different from other methods that have been used for fumigating grain and overcomes many of the deficiencies of these methods, particularly where phosphine and leaky storages are concerned. SIROFLO® provides a method for fumigating grain in leaky storages and has thus enabled Australia's many old silos to become useful storage facilities again. In the process, the substantial capital expenditure required to replace them or to renovate them has been avoided.
Initially, SIROFLO® was developed to treat one silo at a time but was then modified to treat multiples of silos of different size and geometry, possibly filled with different grains and with different quantities. It was further developed to treat infested grain in large, unsealed horizontal storages such as sheds with a minimum of pre-fumigation preparation and cost (approximately $2 per tonne compared with $19 per tonne to fully seal such structures in New South Wales).
SIROFLO® provides a method of fumigation that is inherently safer for workers in the grain industry and is environmentally benign. Moreover, it satisfies the market's increasing demands for residue-free grain. SIROFLO® greatly enhances the 'clean and green' image of Australian grain overseas. In doing this it has also provided the industry with greater operational flexibility in assembling grain stocks for shipment.
SIROFLO® disinfests grain and enables the industry to continue meeting the 'nil' tolerance for insects, a key element of Australia's competitive edge in world grain markets. Moreover, it can do this at a cost that is significantly less than the other methods using insecticidal grain protectants or conventional phosphine fumigation methods. SIROFLO® also provides a means of controlling strains of insects that are resistant to phosphine. It will thus prolong the effective life of this fumigant which has become the mainstay of the industry. Because of the importance of phosphine as a grain fumigant, SIROFLO® is a vital technology for the Australian grain industry. A total of four patents have been filed in relation to SIROFLO®.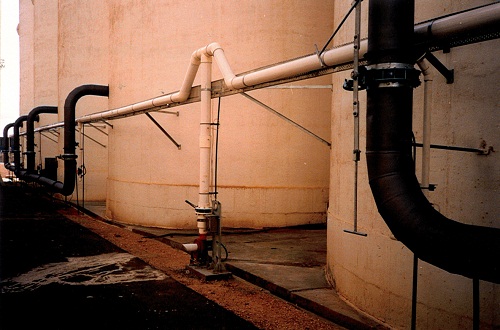 Implementation of SIROFLO® in Australia
The Grain Handling Authority of New South Wales initially installed the process prior to the 1988 harvest at 27 sites with a total capacity of 250 000 tonnes. By 1993 the technique had been extensively trialled and installed in different types of grain stores in South Australia, Queensland, Victoria and Western Australia. The level of implementation of SIROFLO® in Australia by 1993 was as follows:
New South Wales
To mark the importance of the process and their commitment to it, the NSW Grain Corporation conducted a launching of the process at their Moree sub-terminal in 1989. By 1993 the NSW Grain Corporation had a SIROFLO® capacity of 685 400 tonnes and before the next harvest, planned to install SIROFLO® in 10 horizontal storages with an additional capacity of about 150 000 tonnes. In the coming 1993-94 season, they expected to treat over 1 million tonnes with SIROFLO®, with a mixture of permanent facilities and portable units.
Queensland
Following a series of trials in Queensland, GRAINCO expanded their usage of SIROFLO® and in the 1993-94 season expected to treat up to 500 000 tonnes with the technique. Amongst their various uses of the technique they are using it as a means of receiving infested grain from growers. This represents a major change in policy made possible by SIROFLO®. Previously growers have been unable to deliver infested grain to the handling authority and have had to take it away and treat it as best they could. This has led to serious concerns over the methods of treatment applied and the possible residues that could result from such treatments.
South Australia
The South Australian Co-operative Bulk Handling Ltd had the largest SIROFLO® capacity of the Australian bulk handling authorities and by 1993 treated more than 4 million tonnes with this technique. Permanent manifolded systems had been installed in each of their 7 terminals and at 6 country sites. In addition, they had 120 portable SIROFLO® units that enabled them to treat other country storages.
Victoria
Following a series of trials at two sites aimed at evaluating risks to workers and potential union problems, the Grain Elevators Board of Victoria by 1993 had installed SIROFLO® at 10 sites. Victoria has been unable to use phosphine since the 1960s because of union difficulties related to worker exposure. Thus the implementation of SIROFLO® in that State represented a major endorsement of the benefits of SIROFLO® in terms of hazards to the work force.
Western Australia
The West Australian Co-operative Bulk Handling Ltd by 1993 had installed SIROFLO® at three vertical sites and through these facilities anticipated treating approximately 200 000 tonnes of grain in the 1993-94 season. Western Australia at that time had only a small number of vertical silos and these three represent most of that capacity.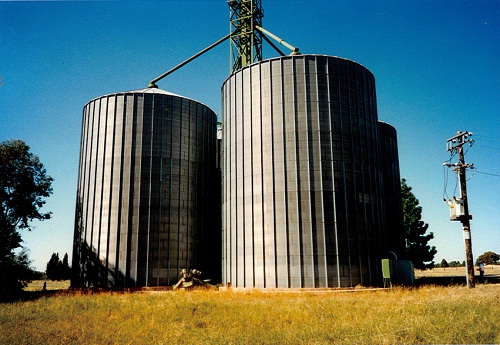 Other SIROFLO systems: SIROFUME and SIROCIRC
Three major SIROFLO systems are now widely in use. The basic SIROFLO configuration designed for leaky stores or stores which are not gas-tight, but will work just as well in sealed structures. It is not limited by the size or shape of the store or by the type of grain stored in it.
SIROFUME is a system for topping-up phosphine concentrations in sealed stores. SIROCIRC is a low-flow recirculation system to provide a balanced flow of gas through a complex of bins at once. Unlike other recirculation systems it is effective in bins which are capped but not gas-tight.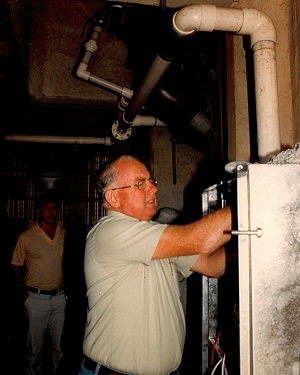 Economic benefits of SIROFLO® to Australia
Within the Australian bulk handling authorities the value of SIROFLO® is difficult to calculate but it is comprised of treatment cost savings of up to $5 per tonne (in 1997 dollars), reduced capital expenditure in old silos, safer working environments for staff, and premiums for residue-free grain. If phosphine resistance becomes widespread the value of SIROFLO® will increase even more. SIROFLO® represents an ongoing saving to Australia of many millions of dollars.
For markets demanding pesticide-free grain, premiums of between $5 and $20 per tonne have been offered. SIROFLO® treated grain can capture these premiums.
By the late 1990s over 70% of grain stored centrally in New South Wales and South Australia was treated by one or other SIROFLO system and, through a licensing agreement with BOC Gases Australia, the technology began being introduced at the farm level in New South Wales, Queensland, South Australia and Western Australia. Strong interest has been shown by farmers wanting to use the process for on-farm storage of grain with some farmers claiming that it will enable them to capture premiums for residue-free grain of up to $20 per tonne. The amount of grain stored on farms in Australia is substantial and increasing with deregulation and most structures are easily adapted to SIROFLO®.
SIROFLO® is a major contribution towards the preservation of quality of post-harvest cereal grains at a time of increasing sensitivity of markets towards pesticide residues and increasing concerns over worker safety and the environment. Moreover, the cost benefits of SIROFLO® have come at a time when costs within the grain industry are critical.
Exporting the technology
In 1996 CSIRO's Geoff Russell supervised the installation of a SIROFLO system for the Cyprus Grain Commission. It was demonstrated to grain storage technologists from around the world during the International Conference on Controlled Atmospheres and Fumigation held in Cyprus that year.
The technology has been installed in Bahrain, Britain, Cyprus, New Zealand and the Pacific Islands as well as countries in Asia and the Americas Britain.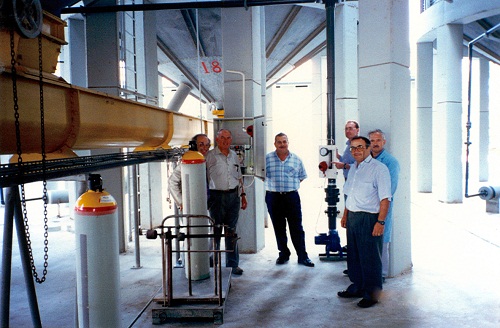 Sources
Winks RG, 2010, Personal communication.
CSIRO, 1997, Research Results, 4: 24-29.