Computer Museums
These pages attempt to give some of the history of CSIRO's use of computing in its research, focussing mainly on the large shared systems and services.
Last updated: 14 Jan 2020.
Robert C. Bell
Status: Initial version

This page is an off-shoot of my Computing History pages, and attempts to build information about computing museums.
Wikipedia – List of computer museums
This has only 4 entries for Australia, only some of which are correct.
Australian Computer Museum Society Inc
Wikipedia – Powerhouse Museum – now the Museum of Applied Arts & Sciences
Monash – Museum of computing history
Other Australian sites include:
HP Computer Museum, Melbourne Australia
– cobweb – maybe moved to the Living Computer Museum, Seattle, Washington
See also the following Appendices from the CSIRO Computing History pages.
(in preparation)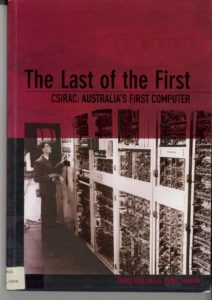 (in preparation)
(in preparation)