Energy
In a major restructuring of CSIRO in 2014, Divisions were replaced by Flagships as the organization's major operating units. The new Energy flagship was created by combining the 148 staff from the Division of Energy Technology with 191 staff (58%) from the Division of Earth Science and Resource Engineering. In 2015 the term Flagship was dropped by the Organization.
The divisional changes associated with the histories of these two divisions are summarized in the figure below with further details at the following links:
Energy Technology (Mark II) (1995-2014)
Earth Science and Resource Engineering (2009-14)
History of Energy Divisions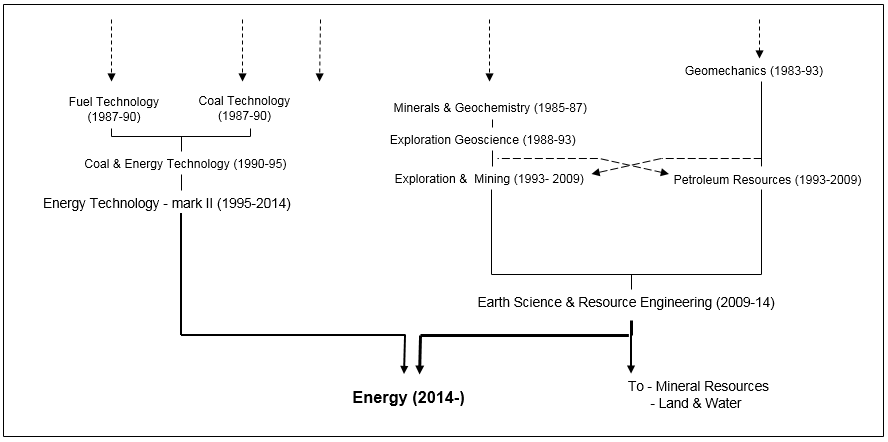 Chief of Division/Officer-in-Charge/Director
Division/Business Unit
Chief/Director
Earth Science & Resource Engineering (2009-14)
Michael Otis McWilliams (2009-14)
Energy Technology mark II (1995 -2014)
John Wright (1995-2002)
Adrian Fredrick Williams (2002-03)
James Byer Smitham (Acting, 2003)
David Brockway (2004-10)
Peter Mayfield (2010-14)
Energy (2014-)
Peter Mayfield (2014-)
Sources
• Schedvin CB, Trace K, 1978, Historical Directory of CSIR and CSIRO 1926-1976, CSIRO Publishing.
• Encyclopedia of Australian Science
• CSIRO Annual Reports
• CSIRO Communications